"Putnams Home Cyclopedia" strana 116 napisano 1851 godine
Bosnjaci su Slavenskog porijekla, dobar dio njih pripada pravoslavnoj crkvi.
A New and Comprehensive Gazetteer By George Newenham strana 94
"Bosnians are almost independent"
Europe past and present geography manual 1850 strana 633
"The inhabitants (Bosniacks) are of Sclavonian origin

Stanovnici su Bosnjaci, Slavenskog su porijekla, dosli su na ove prostore u 9 vijeku?!?.
History of the Greek revolution by Thomas Gordon strana 19
Bosnjaci sa tri vjere.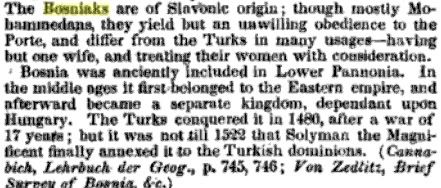 McCullohs universal Gazetteer
"Putopisi" Evlije Celebije iz 1664.g.
http://www.camo.ch/srebrenica_ec.htm
http://www.camo.ch/sarajevo1_ec.htm
http://www.camo.ch/kotor_bar_ulcinj.htm
http://www.camo.ch/foca_ec.htm
http://www.camo.ch/ustikolina_ec.htm
http://www.camo.ch/nevesinje_ec.htm
http://www.camo.ch/dabar_stolac_du_ec.htm
http://www.camo.ch/dubrovnik1_ec.htm
http://www.camo.ch/dubrovnik2_ec.htm
http://www.camo.ch/herceg_novi_ec.htm
http://www.camo.ch/blagaj_ec.htm
http://www.camo.ch/pocitelj_ec.htm
http://www.camo.ch/mostar_ec.htm
Nema na cemu.
Prussian Bosniak Lancer 1760
In 1740, the War of the Austrian Succession began. Prussian King Frederick wanted to annex the rich province of Silesia, but Austria opposed this, which was deemed sufficient cause for war. In the early part of the war, known as the First Silesian War, Saxony was on the side of Prussia, but decided to switch allegiance. In preparation for a possible continuation of the war, military emissaries were sent to the Ukraine in 1744 to recruit men for the Saxon cavalry. The response of the Cossacks was disappointing, but Saxony managed to lure from the Turkish army about 100 Bosniaks - light horsemen armed with lances, who were guarding the Turkish border in the Ukraine. The Bosniaks left for Dresden.
On their arrival, Prussian emissaries in Saxony offered the Bosniaks more, so they marched off again, from Saxony to Prussia. In 1745, Frederick founded a regular Bosniaken Korps, one troop in strength, which became part of the 5th Hussars, also known as the Black Hussars (Totenkopf), their symbol being a death's head.
Hostilities continued as the Second Silesian War, and ended in 1748, but the Bosniaks remained in service. In the same area, and for similar reasons, another war soon started. In 1756, Prussia occupied Saxony, triggering the Seven Years War. The magnitude of operations and insufficient Prussian human resources forced Frederick to recruit soldiers outside his borders. Light horsemen from the east - Poles, Lithuanians, Tartars and Muslims - were incorporated into the Bosniak units, which, by 1760, had grown to 10 squadrons. That same year, the Bosniaks became a regular light cavalry regiment, number 9 on the army list.
After the end of the war in 1763 the regiment was disbanded, only one squadron being kept for ceremonial purposes. In 1778, another war broke out between Prussia and Austria, this time over Bavaria. The Bosniaken Korps was again filled out to 10 squadrons, mainly with recruits from the Ukraine and Poland. In this war, which had no major battles, the Bosniaks suffered heavy losses in surprise attacks by the Austrian hussars.
Towards the end of the eighteenth century, Poland disappeared from the map of Europe: one part was annexed by Russia, another by Austria and a third by Prussia. Prussia recruited 15 squadrons of light horsemen from its part of Poland; but these troops were Bosniaks in name only. As Poles made up the majority, the units were renamed the Korps Towarczys in 1799. After the Prussian defeat by Napoleon in 1806, the Towarczys were disbanded.
http://warandgame.blogspot.com/2007/10/ ... -1760.html
M1791 Bosniaksabel
http://www.geocities.com/trondwikborg/blank
The Danish Bosniak Squadron 1791 – 1808
The Prussian King Frederic the Great invented the Bosniak Cavalry. During the Prussian 7-years
war 1756 – 1763 the Prussian Cavalry had problems dealing with the Russian Cossacks. The King
then created cavalry units armed with lances and manned by Bosniak mercenaries, who could match
the Cossacks.
The French Revolution in 1789 created a number of conflicts between the European states. In 1791
it looked like Denmark could be drawn into these conflicts, because England planned an attack on
Russia, one of Denmark's allies. This was the direct reason for creating the Bosniak Squadron. It
was decided that each of the Hussar Regiment's 6 squadrons should transfer 20 soldiers to the Bosniak
Squadron, in total 120 soldiers. At the time Denmark didn't get involved in any conflicts after
all.
The Bosniak Squadron was quite different from the other Danish cavalry
units. Almost all personnel were Danish, but they were dressed in oriental
looking outfits in light blue (Hussar colour) and a red coat ("Chupa") for
wintertime. In stead of the belt they got a red striped sash and as headgear
they had a red fez with a half moon and light blue feather covered by a white
turban. That was how Denmark thought warriors like this should look like.
Like their Prussian counterparts they were armed with lances.
The crown prince Frederik, who reigned on behalf of his insane father,
Christian the 6th, was very interested in the Bosniak Squadron. In 1793 he
added another 24 soldiers to the squadron, again from the existing cavalry
regiments.
The squadron had garrison in Koege, a Danish town 30 kilometres south of Copenhagen and had a
quiet life. In 1801, when the British Admirals Parker and Nelson attacked Copenhagen, the squadron
had coastal patrol duties and maybe some of the patrols could see the battle. When the British
returned in 1807 the squadron was in Holstein in Northern Germany and didn't get a chance to fight
the British troops.
Shortly after these events the European fashion changed from Bosniak to Polish inspired Uhlans. In
1808 King Frederik the 6th changed the 6th Bosniak Squadron to an Uhlan Squadron with a less exotic
outfit.
http://www.geocities.com/armdury/Bosniak.pdf
Bosnjaci u WW1
Bosniaks in Slovenia during WWI fighting agianst Italians.
The youngest soldier in Soca Battle, Slovenia. Elez was 11 years od when he came to Soca river battle field in the western part of Slovenia. Elez was born in Bijeljina, small town in north-eastern Bosnia and Herzegovina. His father was rich merchant. Elez was youngest soldier at Soca river. Later he was wounded and brought to the hospital in Vienna. Elez Dervisevic passd away few years ago in Damascus, Syria as retired major of Syrian army He is buried in Damascus.
Elez was very popular in Vienna. During his staying in the hospital, he had personal imam who taught him about Islam. When he came out, he attended military school. In the free time, he played with his best friend, Ernst. Ernst is on the left side of this photo.
On this picture we can see young Elez Dervisevic in uniform with his officer, Martinek who was Czech. Elez was later wounded in the battle and sent to Vienna to hospital. Martinek gave him a watch with words: "To my son, Elez..."
Elez's big family before the first world war. Elez's older brother was killed when Austrian troops wanted to enter Serbia at the beginning of the war. He was killed when they wanted to cross the river Drina. Elez saw his brother's death.
The father of Elez Dervisevic. He was rich merchant before the first wolrd war in Bijeljina, north-eastern part of Bosnia.
his monument was made in the first world war by Kofranek, Czech. It can be seen in Log pod Mangartom, small village in western part of Slovenia where large Bosniak troops settled during the war. The monument was rebuilt recently and behind the monument you can see military cemetery with around 800 buried soldiers of different nationalities and faiths, including around 105 muslims from Bosnia and Herzegovina.
Two Bosniak soldiers from the unit BH3 in 1917. Unit BH3 was made from soldiers from Tuzla region
This photo was made during the first world war. You can see imam in the front during the funeral. Muslims first put the dead soldier in the grave and then recite Qur'anic verses. After the funeral, they put the soil on dead body and islamic gravestone (nishan) on the top. The right part of the body should be directed to Mecca, Islamic Holy city.
Bosniaks in Tolmin area. Tolmin was fierce battle-field in western Slovenia during the first world war. Bosniaks showed great courage at Mrzli Vrh, Modrejce etc. Many stayed there forever.
Buzdovan is wooden or iron bat with nails or sharp edge on the top. Bosniak infanrty used this weapon in face-to-face battle against Italians. It was deadly weapon. Some other troops in Austro-Hungarian army also used buzdovan but it was usally common to be used by Bosniaks.
Bosniaks in south Tirolia during the first world war.
Skenirano iz knjige Historija Bosnjaka strana 180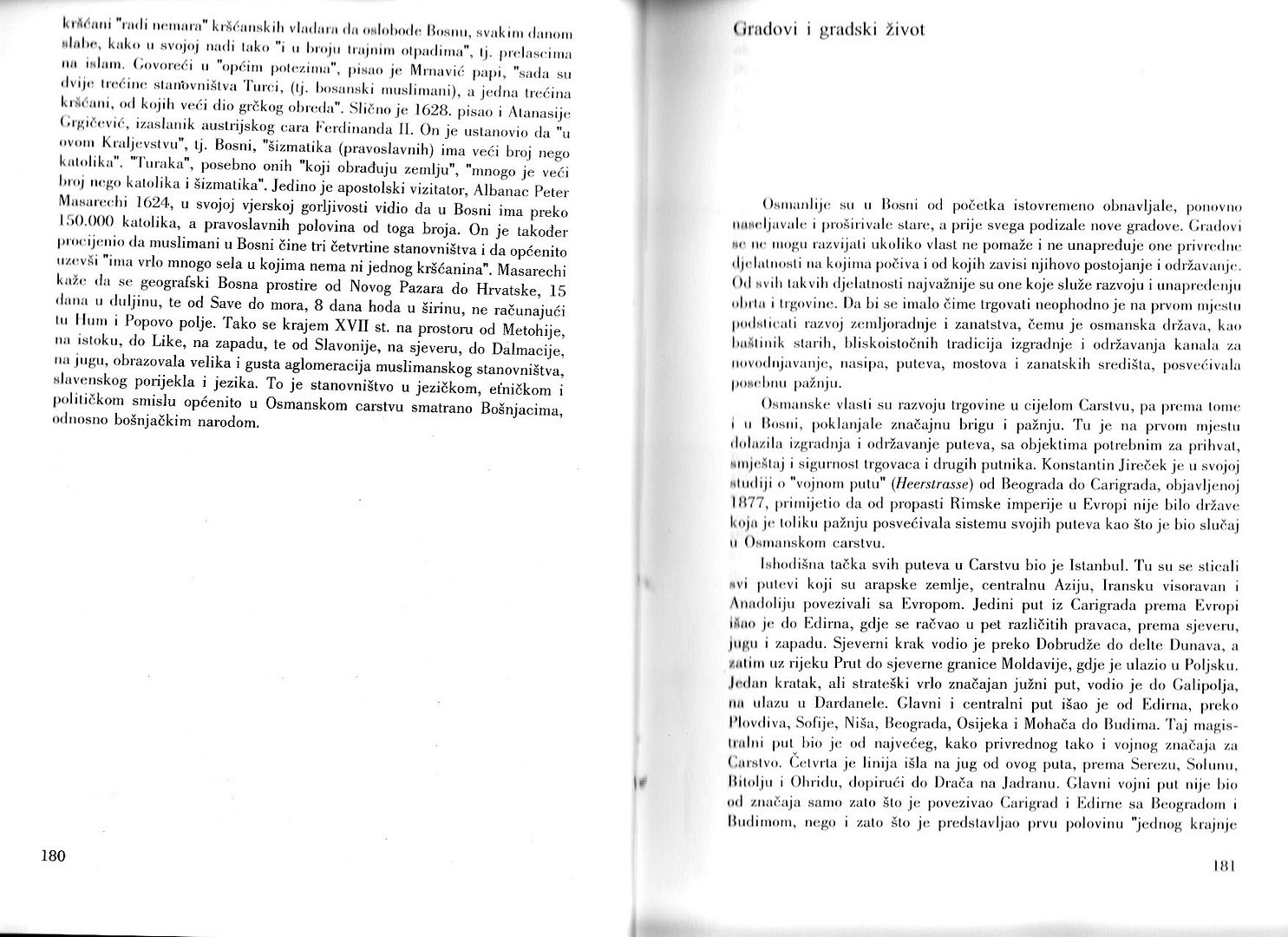 ALBANSKI APOSTOLSKI VIZITATOR PETER MASARECHI 1624 GODINE KAZE SLJEDECE:

TO JE STANOVNISTVO U ETNICKOM JEZICKOM I POLITICKOM SMISLU OPCENITO U OSMANLIJSKOM CARSTVU SMATRANO BOSNJACIMA ODNOSNO BOSNJACKIM NARODOM.
MOZE LI SE JASNIJE IZJASNITI? MISLIM DA NE MOZE.